| [TCS] East Asian Modern Architecture and Locus Design Forum - Feb 25, 2019 | 2019-02-25 |
| --- | --- |
Content
The Trilateral Cooperation Secretariat (TCS) organized a series of trilateral architects forum in Seoul and Gyeongju respectively on February 25th and 26th, 2019, inviting representative architects from China, Japan and ROK. These forums specially co-organized with Gyeongju City Government and sponsored by Korea Hydro & Nuclear Power.
On February 25th, first forum was held at the TCS conference hall under the theme of 'East Asian Modern Architecture and Locus Design'. As keynote speakers, world-famous architects including Mr. FUMIHIKO Maki, former professor of University of Tokyo, Mr. CHANG Yungho, professor of MIT, and Mr. KIMM Jong-soung, president of SAC International made speeches sharing their experiences and philosophies citing their own architectures. On the following talk concert, Mr. LEE Dae-jun, professor of Handong Global University moderated the discussion between the architects and conceptualized the idea of locus in East Asia. Also, the TCS provided tasting corner for CJK representative teas and special exhibition of 'Locus Design Books' collaborated by CJK designers and architects.
Over 140 architects, students, journalists and general public participated from the three countries including Mr. LEE Young-seok, Vice Mayor of Gyeongju, Mr. HONG Seok-in, ROK MOFA DG of Public Diplomacy, Mr. FANG Kun, Minister-counselor of Chinese Embassy, Mr. MIYATA Kimihiro, Acting Director of Japanese Culture Center, and Mr. LEE Ki-ung, Honorary Chairman of Paju Bookcity Culture Foundation, who made congratulatory remarks for the forum.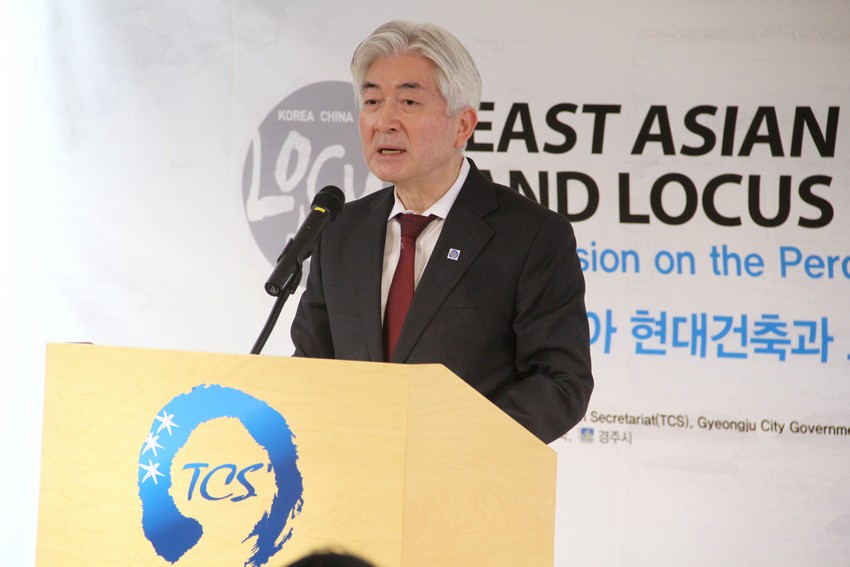 ▲Welcoming remarks of SG LEE-Jong-heon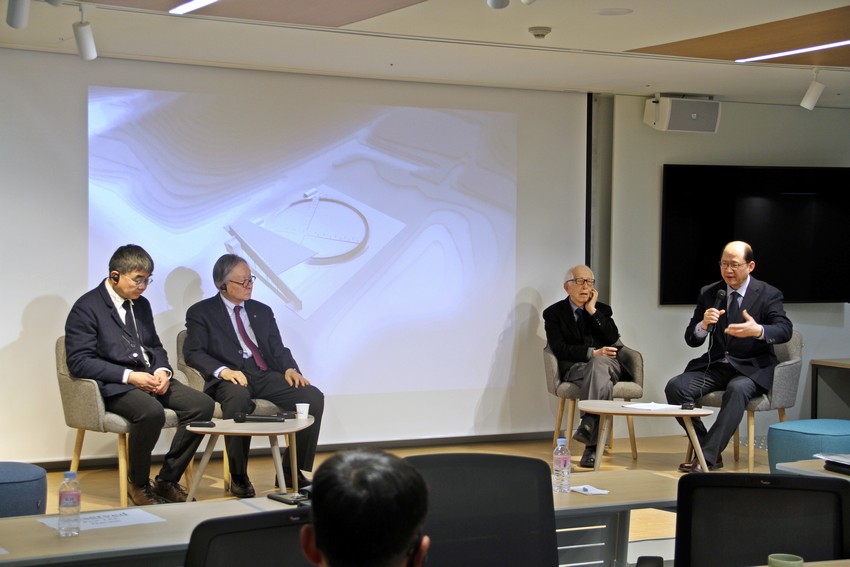 ▲Trilateral architects talk concert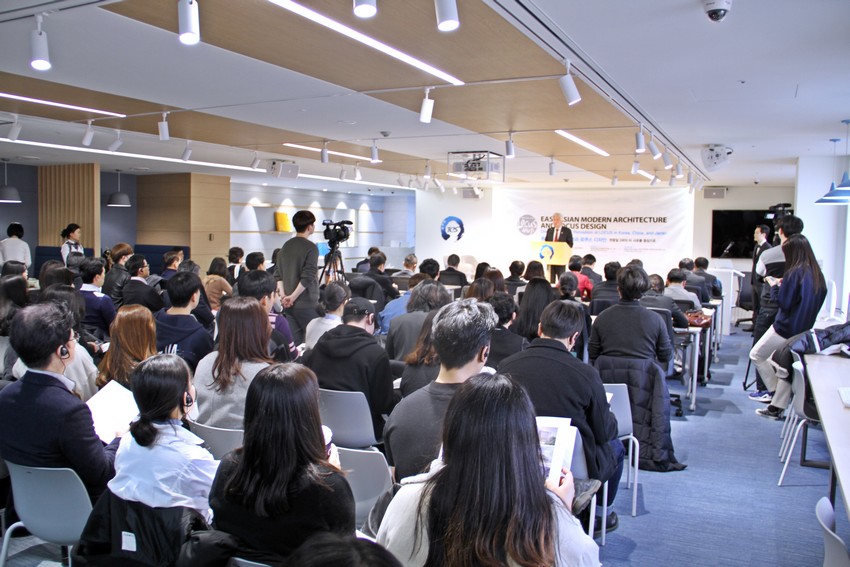 ▲Participants listening to the speeches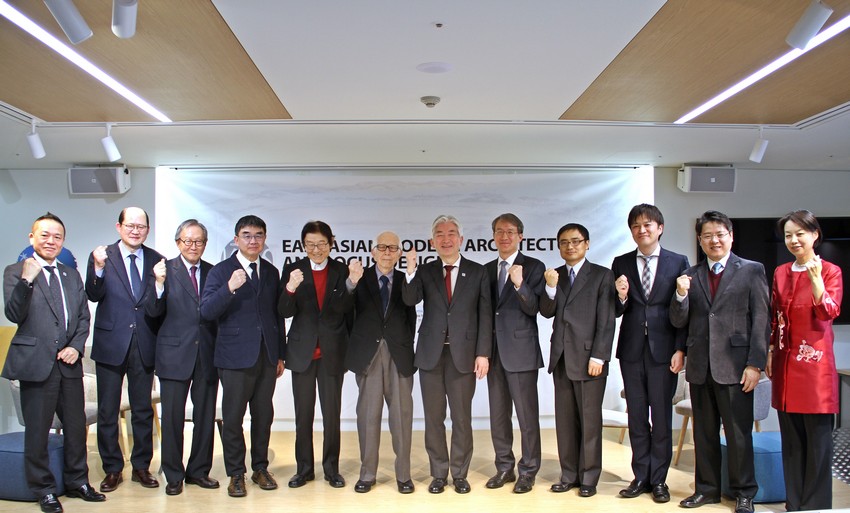 ▲Group Photo of Speakers & CJK representatives
On February 26th, second forum was held at the HICO Convention Center located in Gyeongju, ROK under the theme of 'East Asian Historical Cities and Locus Design Strategy'. As keynote speakers, professor FUMIHIKO, professor CHANG, and professor LEE Dae-jun made another speeches introducing their experiences and strategies to renovate the old capitals with a thousand-year history, namely Kyoto, Xian, and Gyeongju. Over 200 architects, students, journalists and general public participated and Mr. JOO Nak-young, Mayor of Gyeongju, Mr. YOON Byung-kil, Chairman of Gyeongju City Coulcil, Mr. LEE Sang-phil, Principal of Gyeongju Hyanggyo made opening remarks and congratulatory remarks for the forum.
As a host of both forums, the TCS Secretary-General Mr. LEE Jong-heon emphasized the fact that cultures, technologies, and philosophies of the country always fully reflected on the architectural style of the era and wished these precious opportunities to deepen people-to-people exchanges in the field of humanities can enhance mutual understanding among the three countries and shed light on the future direction of trilateral cooperation.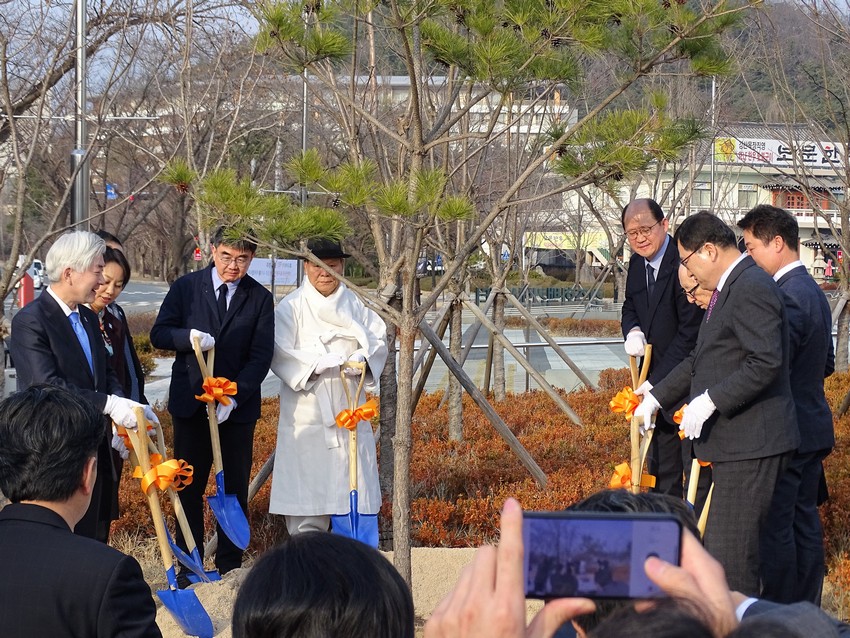 ▲Commemorative Tree Planting Ceremony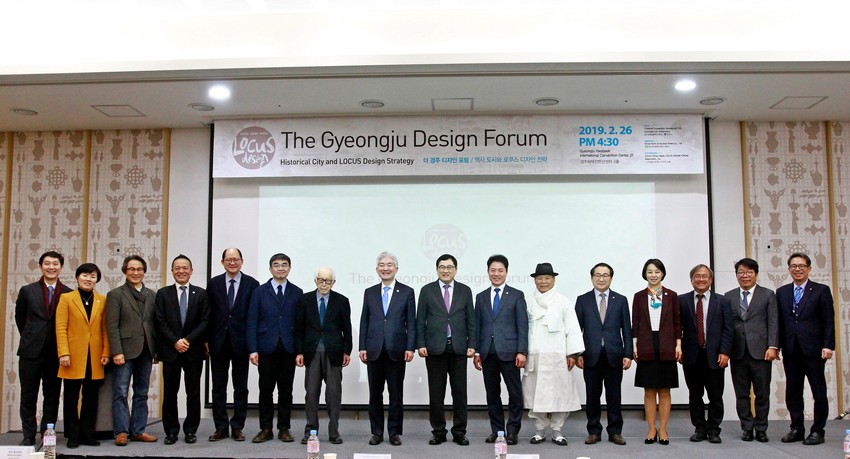 ▲Group Photo in Gyeongju