Secretary-General YANG Houlan attended the 19th ASEAN Plus Three (APT) Summit held in Vientiane, Lao PDR on September 7, 2016. The Summit was participated by the Heads of State/Government of 10 ASEAN member states, Japan, the People's Republic of China and the Republic of Korea. 
During the Summit, the respective leaders shared the review of APT Cooperation and put forward suggestions for its future direction. The importance and effectiveness of APT Cooperation were acknowledged particularly in enhancing collective efforts to promote the regional growth in the economic front, overcoming shared challenges in the traditional and non-traditional security fields and further facilitating cultural and people-to-people exchanges. 
On regional and international issues, the leaders called for closer partnership in dealing with threats of terrorism and violent extremism. The leaders also underlined the importance of maintaining peace and stability in the region by achieving denuclearization of the Korean Peninsula through peaceful means. 
ASEAN Plus Three Statement on Promoting Sustainable Development Cooperation and ASEAN Plus Three Statement on Active Ageing were adopted as the result of the Summit.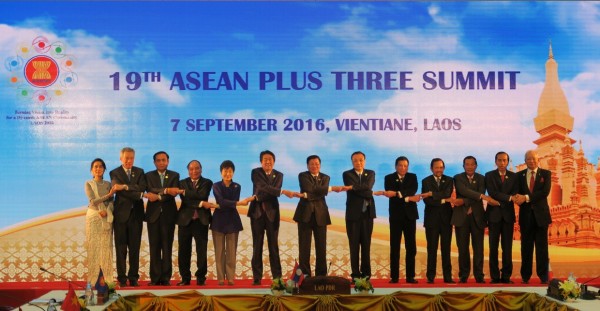 The Heads of the State/Government of the ASEAN Plus Three countries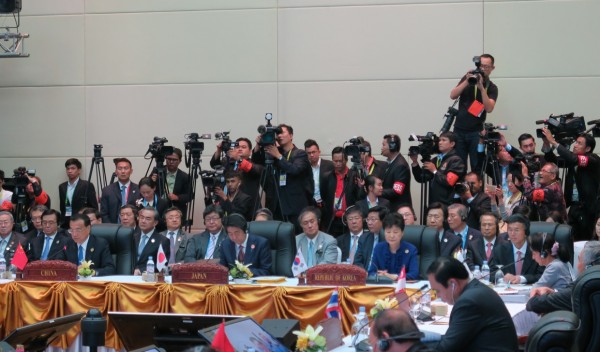 TCS Secretary-General YANG at the Summit together with leaders of the three countries (from the left) Premier of the People's Republic of China LI Keqiang, Prime Minister of Japan Shinzo ABE and President of the Republic of Korea PARK Geun-hye