The 2nd Network of Trilateral Cooperation Think-Tanks (NTCT) Conference was held in Seoul, ROK, on October 13, 2017. The Conference was organized jointly by Korea National Diplomatic Academy (KNDA), China Foreign Affairs University (CFAU), and the Japan Forum on International Relations (JFIR). The Trilateral Cooperation Secretariat (TCS) sponsored and participated in the Conference.
At the National Focal Points Meeting, the participants exchanged views on the importance of enhancing trilateral think-tanks cooperation. They further clarified the mechanism of the NTCT, and discussed ways to strengthen the function of the NTCT. They also welcomed the TCS to continue playing a secretariat function of the NTCT National Focal Points Meeting, and push forward the implementation of the Research Series proposed by the TCS.
The National Focal Points Meeting was followed by three sessions under the themes of "Regional Security Situation and Cooperation", "Economic Cooperation between Korea, China and Japan", and "Environmental Cooperation between Korea, China and Japan". Distinguished scholars from the three countries shared their insights and offered recommendations on pressing issues in the region, ranging from Northeast Asian security to trilateral economic and environmental cooperation.
* The NTCT, agreed upon the 7th Trilateral Foreign Ministers' Meeting in March 2015, was officially inaugurated on August 31, 2015 in order to promote mutual intellectual exchanges among the three countries. The function of NTCT is to share academic resources to provide intellectual support for the three Governments, as well as to promote the general public's understanding of the trilateral cooperation.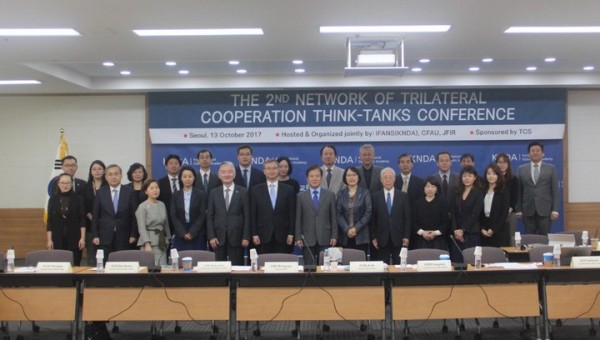 Group Photo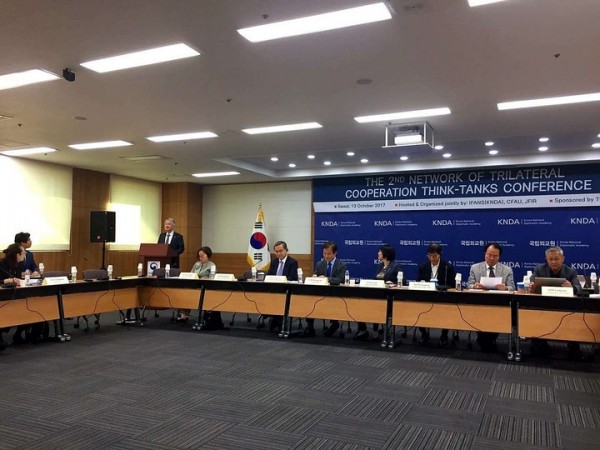 SG LEE Delivered Congratulatory Remarks