The 20th ASEAN Plus Three (APT) Commemorative Summit was held in Manila, the Philippines on November 14, 2017. The Heads of State/Government of 10 ASEAN member states, Japan (co-chair), the People's Republic of China and the Republic of Korea participated in the meeting. TCS Secretary-General LEE Jong-heon also attended the Summit as observer. 
In commemoration of the 20th anniversary of APT cooperation, all Leaders highly recognized that APT cooperation has become a valuable mechanism for regional architecture since it was founded against the backdrop of the Asian financial crisis in 1997. Putting forward the respective parties' views and proposals for the future direction, the Leaders also agreed to expand and deepen cooperation, particularly in the areas of trade and investment, finance, infrastructure, technological innovation, people-to-people and cultural exchanges. 
Under the chairmanship of the Philippines, this year's Summit adopted the Manila Declaration on the 20th Anniversary of ASEAN Plus Three Cooperation and the APT Leaders' Statement on Food Security Cooperation.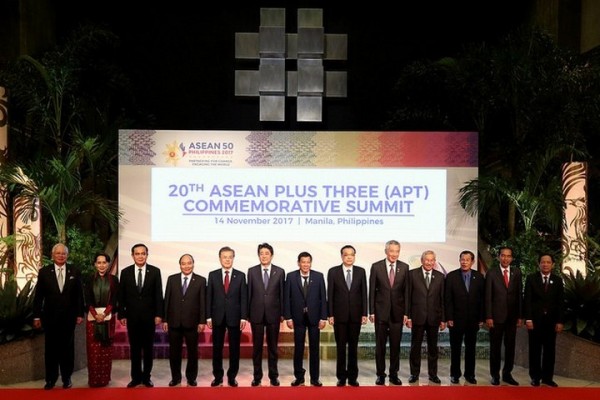 The Heads of the State/Government of the ASEAN Plus Three states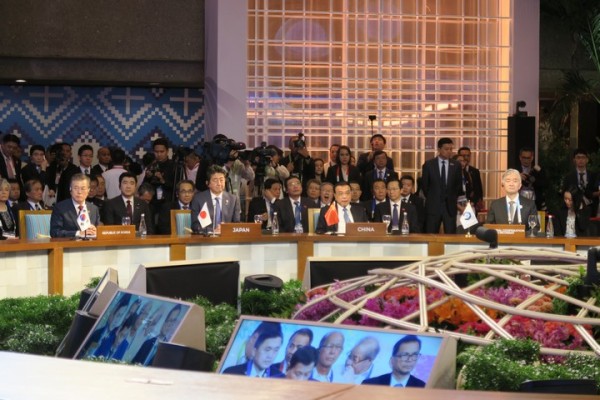 TCS Secretary-General LEE Jong-heon at the APT Summit, alongside (from the left) President of the Republic of Korea MOON Jae-In, Prime Minister of Japan ABE Shinzo and Premier of the People's Republic of China LI Keqiang.