Others
CFAU President Amb. Zhao Jinjun Paid a Courtesy visit to the TCS
2014.04.16
TCS Secretary-General Iwatani received a courtesy visit by Amb. Zhao Jinjun, President of China Foreign Affairs University (CFAU) on April 16, 2014.
During the meeting with SG Iwatani and other board members, Amb. Zhao congratulated TCS on successfully holding the 2014 International Forum of Trilateral Cooperation (IFTC) and spoke highly of its effort on strengthening trilateral cooperation. He looked forward to further engagement between CFUA and the TCS by conducting intellectual exchange to facilitate trilateral cooperation and expressed the wish to establish trilateral think tank network in the near future.
Amb. Zhao attended IFTC on April 15 to deliver a keynote speech by sharing vision for peace and common prosperity in Northeast Asia.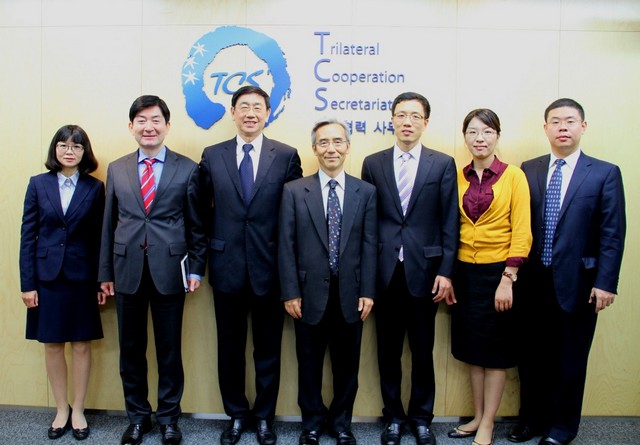 Amb. Zhao Jinjun (third from the left), President of CFAU, visited TCS on April 16, 2014