Mechanisms
Participation in the 14th Trilateral Cultural Content Industry Forum
2021.10.27
The 14th China-Japan-ROK Cultural Content Industry Forum was held online on October 27, 2021. The Forum was hosted by China, and was participated by Mr. GAO Zheng, Director-General of Department of Industries Development, Ministry of Culture and Tourism (MCT) of China, Mr. KIM Youngsoo, Director-General of the Content Policy Bureau, Ministry of Culture, Sports and Tourism (MCST) of the ROK and Mr. NOHARA Satoshi, Director-General of Commerce and Information Policy Bureau, Ministry of Economy, Trade and Industry of Japan (METI) of Japan. From the Trilateral Cooperation Secretariat (TCS), Ms. KIM Jieun, Director of Social and Cultural Affairs, delivered congratulatory remarks.
The 14th Forum consisted of the intergovernmental meeting among the three ministries and relevant agencies, as well as 'the Exchange Conference for Digital Culture Enterprises from China, ROK and Japan' participated by private sector businesses. The intergovernmental meeting included keynote speeches on "Future Directions for Development of the Cultural Industries after COVID-19" and presentations on "Promoting Collaboration and Cooperation in the Content Industries of China, ROK and Japan". Based on discussions, the three ministries adopted "the Joint Statement of the 14th Trilateral Cultural Content Industry Forum" agreeing to strengthen exchanges and collaboration between the cultural content industries of the three countries and support international cooperation between private sector businesses. The Exchange Conference for Digital Culture Enterprises held in the afternoon included three sub-sessions each under the topic of "Immersive Contents", "Digital Music" and "Animation".
In her remarks, Director KIM noted that the three countries have produced high-quality cultural contents of global competitiveness. In light of this, the cultural content industry is an important area for cooperation that can create added values through regional cooperation involving the three countries. She hoped that the peoples of the three countries can lower barriers to cultural exchange and promote our shared values of culture in the three countries through such efforts.
The Forum is held annually since 2002, participated by the government officials and representatives from the relevant private sector businesses to share and discuss the cultural content industry of the three countries to expand a common market. The 15th Forum is planned to be held in the ROK in 2022.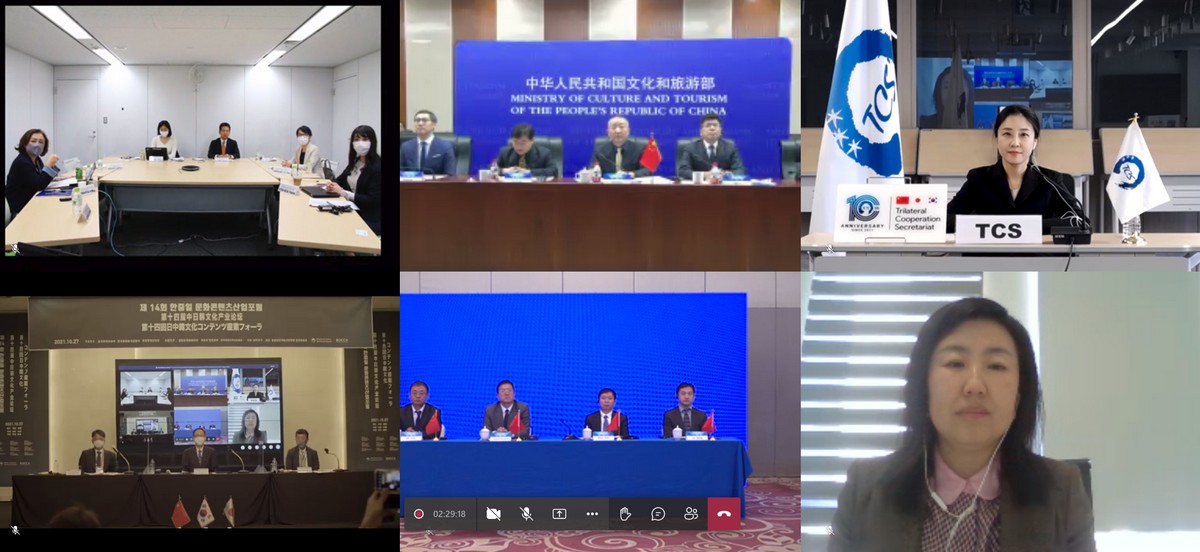 ▲Participants attending the intergovernmental meeting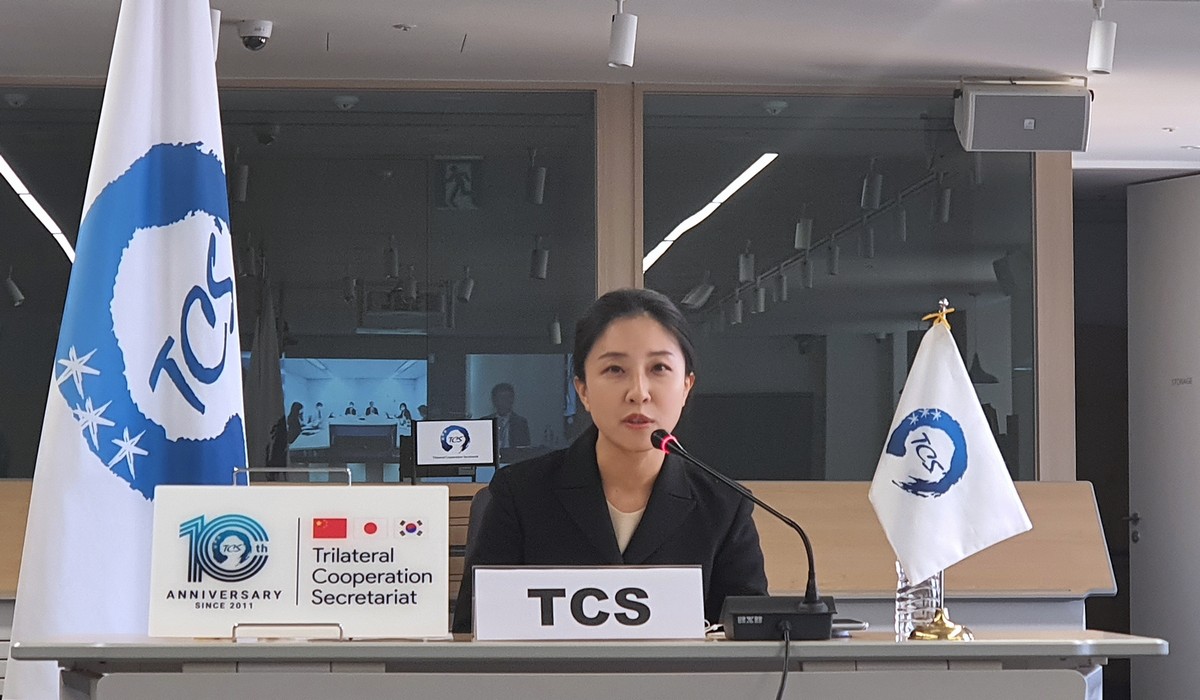 ▲Ms. KIM Jieun, Director of Social and Cultural Affairs, delivering congratulatory remarks