Seminar & Forum
TCS Secretary-General Amb. OU Boqian Addressed the Linhai Cultural Forum
2023.04.11
On April 11, 2023, Trilateral Cooperation Secretariat (TCS) Secretary-General Amb. OU Boqian was invited to address the Linhai Cultural Forum at the Shandong University Weihai Campus to promote understanding of Trilateral Cooperation. About 80 students and faculty members attended the Forum.
At the Forum, SG OU introduced the history and development of Trilateral Cooperation. She said in the course of advancing Trilateral Cooperation, the philosophy of "advocating harmony without conformity(和而不同)" and "coexist in harmony(和合共生)" have been followed. She stressed that Northeast Asia is now facing challenges in the areas of politics and security, and the three countries should work together to further promote lasting peace and common prosperity in the region.
SG OU also introduced TCS's key culture and youth programs such as the Trilateral Common Vocabulary Dictionary (TCVD) , Young Ambassador Program (YAP), Trilateral Youth Exchange Network (TYEN) , and the Trilateral Youth Summit (TYS). She encouraged students to join the programs and TYEN network.
In the Q&A session, she shared stories about her experiences as a Chinese diplomat and gave career guidance to students who want to become a diplomat. She advised students on how to deal with cultural differences and how to maintain a work-life balance. She also encouraged students to be physically active.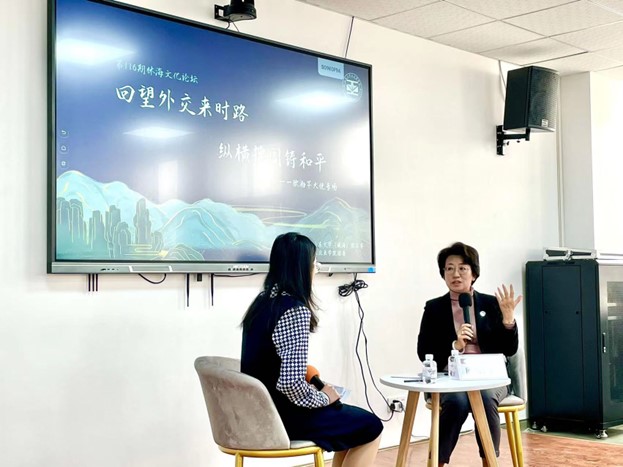 ▲SG OU addressed the Linhai Cultural Forum