Others
TCS Secretary-General met with Party Secretary of Weihai City
2023.04.11
On April 11, 2023, Trilateral Cooperation Secretariat (TCS) Secretary-General Amb. OU Boqian met with Mr. YAN Jianbo, Party Secretary of Weihai city. The two sides exchanged views on a number of matters regarding trade, economic and cultural cooperation. Professor ZHANG Yunling, Member of the Chinese Academy of Social Science, Mr. LI Jian, Members of the Standing Committee of the Weihai and Mr. ZHAO Baogang, Vice Mayor of Weihai, were present at the meeting.
Mr. YAN warmly welcomed the TCS delegation. He expressed appreciation for TCS' effort in promoting people-to-people exchange and local government exchange in the three countries. He said as the city of Weihai continues to strengthen the economic cooperation with Japan and the ROK, he would like to ask for TCS' support to deepen the cooperation.
SG OU emphasized the important role of local government in promoting Trilateral Cooperation. She spoke highly of Weihai's contributions to economic and trade cooperation, and stated continuous support to explore collaboration opportunities. Both sides agreed to strengthen collaboration and reaffirmed support for each other.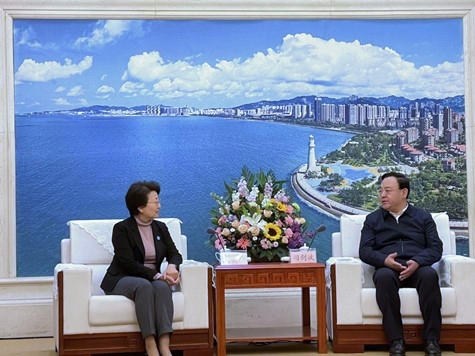 ▲SG OU meets with Mr. YAN Jianbo, Party Secretary of Weihai city