Seminar & Forum
SG OU Addressed a Panel at Yenching Global Symposium 2023
2023.04.15
On April 15, Trilateral Cooperation Secretariat (TCS) Secretary-General Amb. OU Boqian addressed at Baixian Panel of Yenching Global Symposium 2023 online with the title of "Shared Future in Our Hands". The theme for Baixian Panel is "A New Generation of East Asian Relations: Investing in a Shared Future." Amb. CHENG Yonghua, Prof. Moon Chung-in, and Yenching Scholar Dang Dao Nguyen also address the same panel.
In her remark, SG OU provided an overview of the history and development of Trilateral Cooperation. She highlighted that here has been a steady improvement in institutionalized cooperation, economic development, and cultural and people-topeople exchange among the three countries. She particularly emphasized the importance of youth cooperation in shaping a shared future for China, Japan, and ROK. TCS provides various youth projects such as the Young Ambassador Program (YAP), Trilateral Youth Summit (TYS), and Trilateral Youth Speech Contest (TYSC) to promote mutual perception among the youth of the three countries. The main 9 youth projects held by TCS have been integrated into the Trilateral Youth Exchange Network (TYEN), which serves as a one-stop platform where young people can communicate with each other. She pointed out that whatever future we envision lies in our own hands and call for the youth to work together from today to shape it.
During the panel, Amb. CHENG and Prof. Moon shared their views of multilateral cooperation in East Asia, stressing that mutual understanding and close ties between East Asian nations bear the potential for partnership and multilateral cooperation.
During the Q&A session, SG OU stressed that peace and security are the key points for the shared future, and reemphasized that cooperation is the only solution for the region of East Asia. The session also touched upon the topic of bloc confrontation, techno nationalism, and supply chain issues in the region.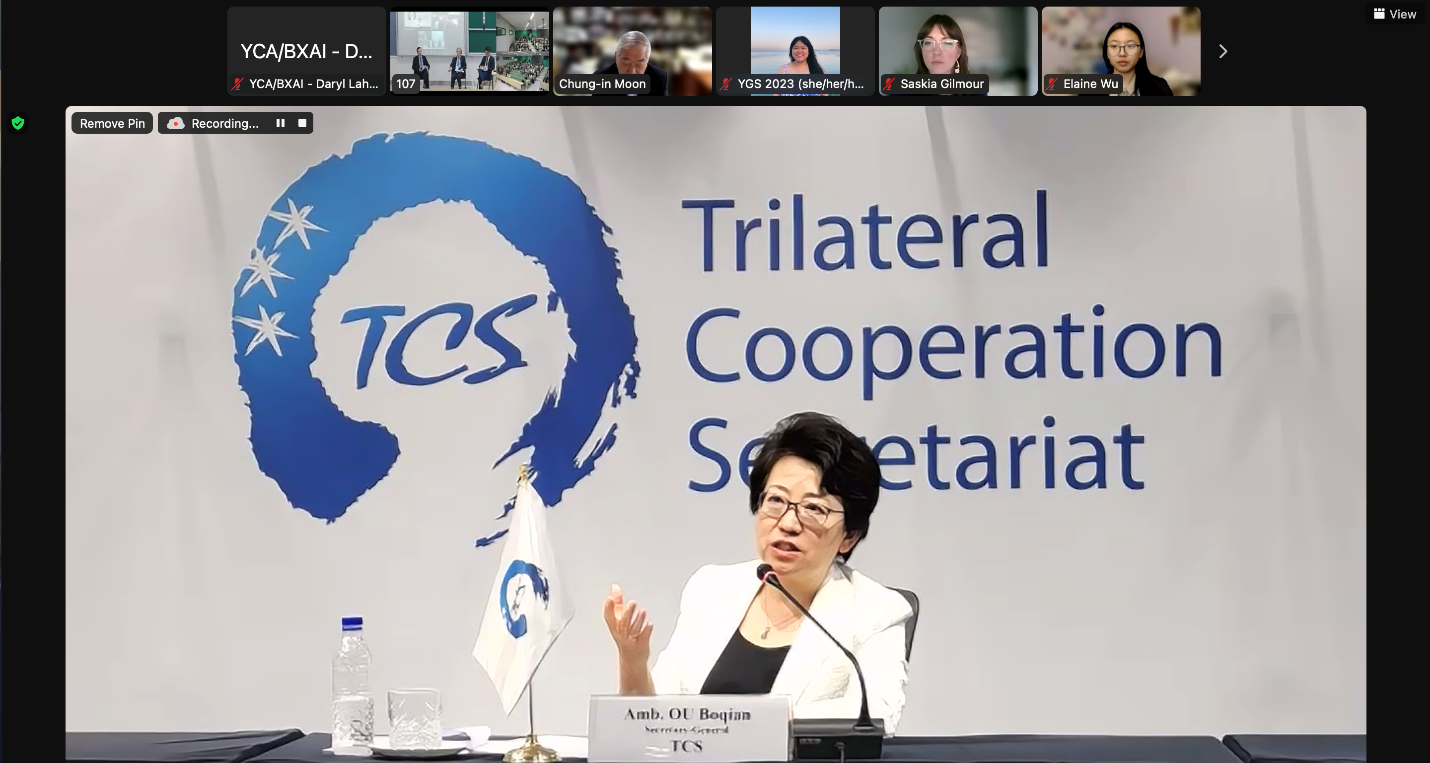 ▲ SG OU addressing the panel