NOTICE
Public Seminar of Trilateral Disaster Risk Reduction and Relief Cooperation (Closed)
2019.05.29



About the Public Seminar:
The Trilateral Cooperation Secretariat (TCS) welcomes you to the Public Seminar of Trilateral Disaster Risk Reduction and Relief Cooperation!
The Public Seminar invites NGOs and education and training institutes on disaster risk reduction and management located in China, Japan and the ROK to share their challenges, good practices, and exchange views on possible cooperation with you. This event is organized with the support of relevant ministries in disaster management field, namely the Ministry of Emergency Management of China, the Cabinet Office of Japan, and the Ministry of the Interior and Safety of the ROK based on the agreement at the 5th Trilateral Ministerial Meeting on Disaster Management.
About the Program:
· Date & Time: 14:00 – 17:35, June 19, 2019
· Venue: S-Tower 15th FL, 82 Saemunan-ro, Jongno-gu Seoul, ROK (서울시 종로구 새문안로82 S타워 15층)
· Participation Fee: Free
· Language: English, Chinese, Japanese and Korean (Simultaneous interpretation)
· Organizer: Trilateral Cooperation Secretariat (TCS)
* On-site registration starts from 13:30 p.m. on June 19, 2019.
* 참가등록 및 입장은 2019년 6월 19일 오후 1시 30분부터 시작합니다.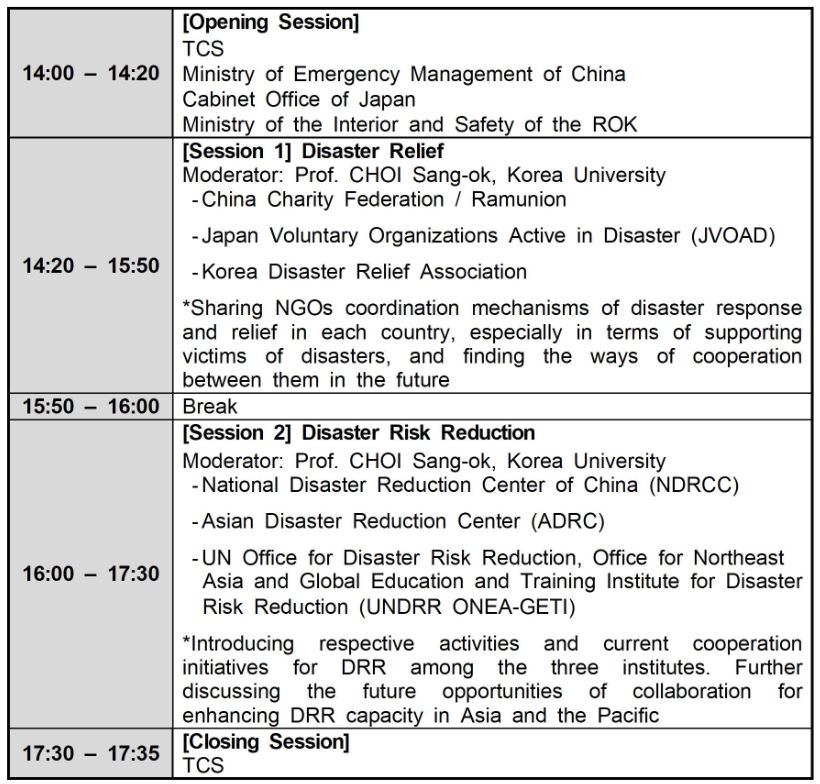 How to Register?

:
Please register online to attend the event. You will receive an automatic confirmation email once your registration is completed. Please be sure to bring a printed copy of the automatic confirmation email at the venue upon your arrival.
· Registration: Online registration (Click to follow link)
· Deadline to Online Registration: 18:00 p.m., June 18, 2019
* For inquiries, please contact Kai Onoyama
Phone No.: (+82) 70-4162-5324 / Email: kai_onoyama@tcs-asia.org