Seminar & Forum
TCS Hosted Sessions at the 9th Jeju Forum for Peace and Prosperity
2014.05.30
The Trilateral Cooperation Secretariat (TCS) participated in the 9th Jeju Forum for Peace and Prosperity held at Heavichi Hotel & Resort in Jeju, on May 30, 2014 and co-organized three sessions under the theme of 1) Reconciliation and Integration in Northeast Asia – Past, Present, and Future (Political Session) 2) Building Cooperation Model for Low Carbon Growth: Potential of Inter-City Cooperation among Korea, Japan and China (Economic Session) and 3) Finding Hopes for Trilateral 'Give Up Three' Generations (Socio-Cultural Session). By utilizing this platform for discussions among government bodies, media, private sectors as well as academic institutes, the TCS aimed to raise awareness of the significance of the trilateral cooperation, increase visibility of the TCS among general public and explore cooperative agenda with experts from different sectors.
The first session on reconciliation and regional integration promoted in-depth discussion on history issue affecting the prospects of reconciliation and integration in Northeast Asia, bringing together eminent scholars from China, Japan, Korea, and the United States. They agreed on making efforts to understand different views among China, Japan and Korea by enhancing trilateral joint history research.
The second session on low-carbon growth brought together aspiring local governments of the three countries for low-carbon growth, and highlighted that trilateral inter-city cooperation on low-carbon growth is essential and feasible as cities of the three countries have complementarity in economic development, geographical proximity and the strong will to cooperate. Building on the discussion and suggestions made at the session, the TCS will embark on the trilateral inter-city cooperation initiative on low-carbon growth to create an effective inter-city cooperation model.
The last session featured on youths exchanges with the topic of 'Give Up Three' Generation, youths who give up love relationship, marriage and childbirth for a decent job. Expert presentation and comments by youth representatives of the three countries explained various reason behind the appearance of this particular generation and possible solutions, drawing deep sympathy and interest of large audience.
Prior to the TCS sessions, Secretary-General Iwatani Shigeo was invited to speak as a panelist at the session on "Regional Cooperation and Middle Power Diplomacy for Building a New Asia" organized by Korea National Diplomats Academy on May 29, 2014. In his presentation, he pointed out the major impediments to cooperation in this region and suggested solutions such as 1) Developing Confidence Building Measures (CBMs) 2) Promoting exchanges among the youths, journalists and/or history teachers and 3) Fostering East Asian identity and spirit of community (theme of 2014 IFTC) to promote socio-cultural commonalities. With regard to the role of middle power diplomacy in regional cooperation, he highlighted on the role of the ROK as a mediator in the process of confidence building and its leading role expected in initiating structure building efforts in Northeast Asian region.
Under the theme "Designing New Asia," the 9th Jeju Forum for Peace and Prosperity has brought together more than 3,500 experts, government officials and politicians from more than 55 countries for in-depth discussions on the issues. Building on this year's success, the TCS will continue its participation in Jeju Forum to lead timely dialogues on trilateral cooperation and to expand its network with relevant partners working in diverse fields.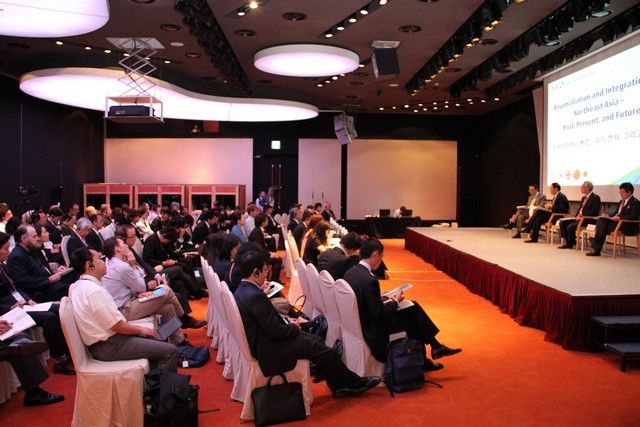 Session 7-F on "Reconciliation and Integration in Northeast Asia – Past, Present, and Future"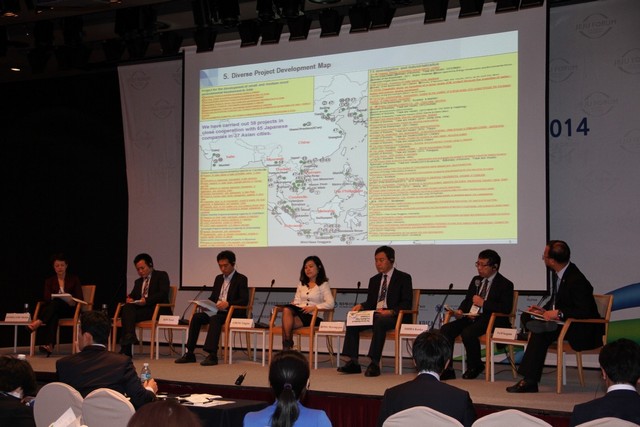 Session 9-F on "Building Cooperation Model for Low Carbon Growth: Potential of Inter-City Cooperation among Korea, Japan and China"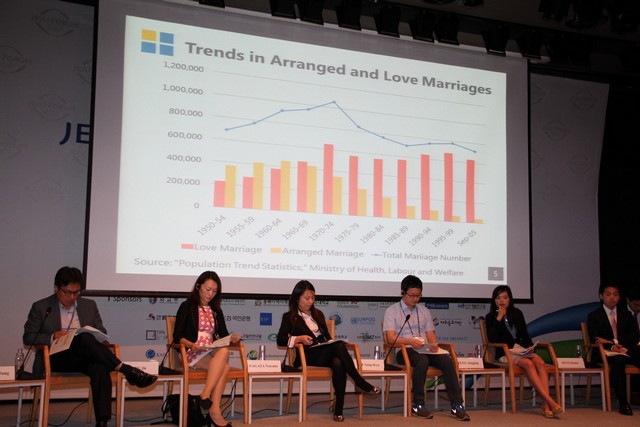 Session 10-F on "Finding Hopes for Trilateral 'Give Up Three' Generations"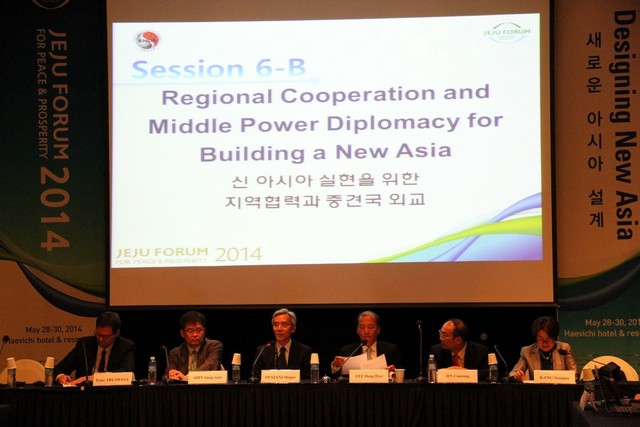 SG speaks at the Session 6-B on "Regional Cooperation and Middle Power Diplomacy for Building a New Asia"