Others
TCS organized the Trilateral Journalist Exchange Program in China, Japan, and Korea
2014.03.24 ~ 2014.04.01
The Trilateral Cooperation Secretariat (TCS) organized the Trilateral Journalist Exchange Program in China, Japan, and Korea from March 24th to April 1st, 2014. During the program, the journalist delegation visited governmental agencies and major institutions throughout three countries representing trilateral cooperation in the fields of politics, economy, environment, culture, and education holding joint-interviews on progress of trilateral cooperation. Also, the journalist delegation hold three special dialogues exchanging opinions on the role of media as well as the role of TCS to enhance trilateral cooperation.
Amb. IWATANI Shigeo, the TCS Secretary General, led the journalist delegation. Mr. Zou Haoyu, deputy director of the China Radio International, Ms. Yao Li, managing director of the Global Times, Mr. Liang Hui, reporter of the Reference news, Ms. Zhao Shengnan, reporter from China Daily, Mr. Mizusima Makoto, vice director of the Jiji News, Mr. Sato Fumitaka, vice director of the NHK, Mr. Kanasugi Takao, reporter of the Chunichi Newspaper, Mr. Takamoto Kota, reporter of the Mainichi Newspaper, Ms. Inoue Chihiro, reporter of the Kyodo News, Mr. Kim Jinho, deputy managing editor of the Kyounghyang Daily News, Mr. Ha Jongdae, deputy managing editor of the Dong-a ilbo, Mr. Shim Seogtae, department chief of the SBS, Ms. Jeong Aran, reporter of the Yonhap News Agency, Ms. Kang Jeong Suk, reporter from The Aju Business participated the program.
Based on several field trips and interview with professionals, there was a general consensus that promoting people to people exchanges, especially youth exchanges, could be substantial measure to consolidate relationship between three countries. They not only discussed how to promote the existing activities, but also discussed how to get attention from those who doesn't have any interest on neighboring countries.
Through the site visit to environment or meteorology related organizations, journalist delegation expressed deep concern on the transboundary environmental issues including Asian dust and the long-range air pollutant and agreed the importance of trilateral cooperation on this area.
At the dialogues, journalist delegation expressed intimate sense of fellowship with each other as a journalist and agreed on the importance of media's role on the trilateral cooperation. Also, they emphasized compliance of journalist ethics and efforts to listen opponent's opinion as a key point. Further, journalist delegation discussed on the possibility of the cooperation among C-J-K media for making TV channel or program to promote the trilateral cooperation and expected TCS's active role as a catalyst or platform for the momentous issues which three governments have difficulty to engage.
This is the first occasion for the TCS to organize the trilateral journalist exchange program. As an international organization mandated to promote cooperative relations among China, Japan, and Korea the TCS will continue its efforts to facilitate mutual understanding between three countries and contribute to constructive media environment upon the co-prosperity of the three countries.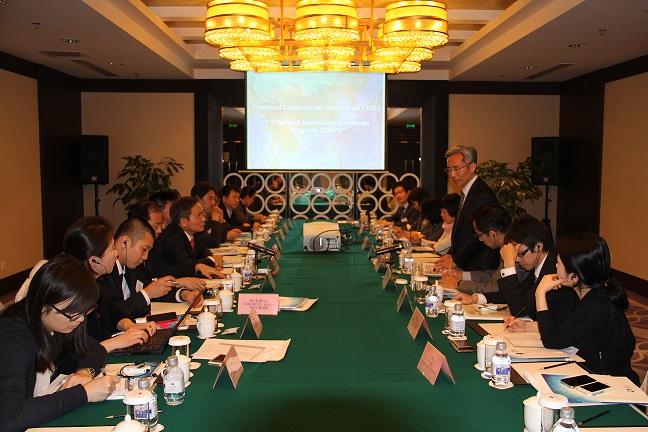 TCS Secretary-General IWATANI Shigeo delivered remarks during the journalist dialogue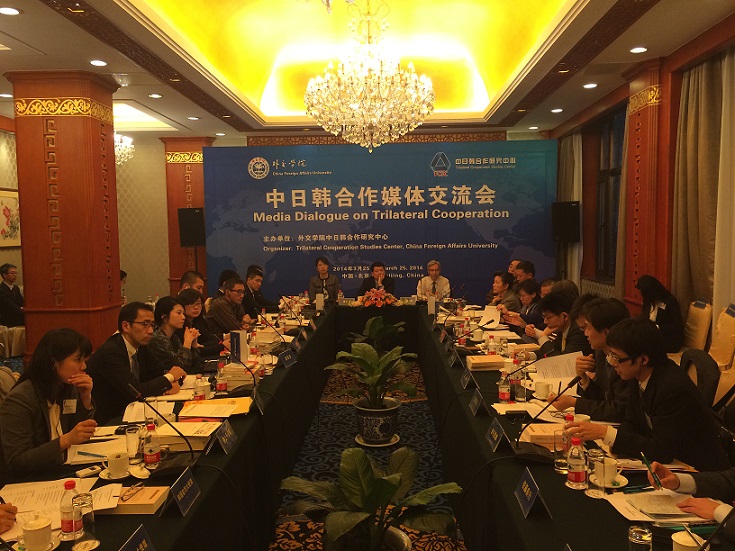 Group photo after the journalist dialogue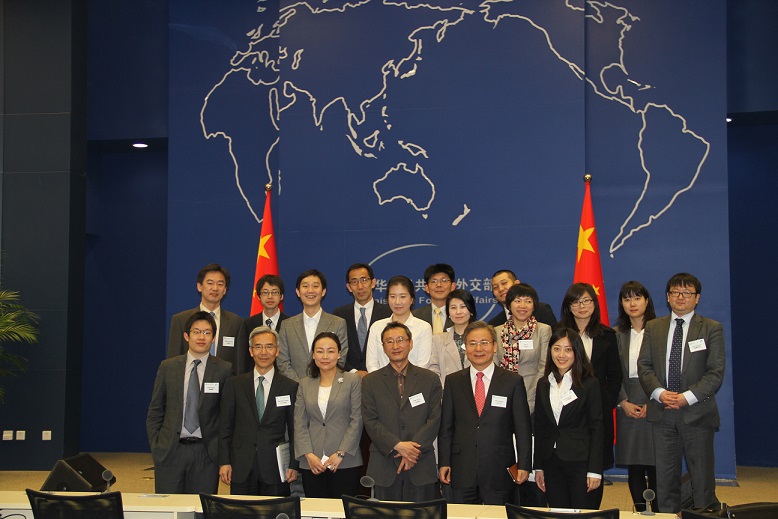 Visit to Chinese Ministry of Foreign Affairs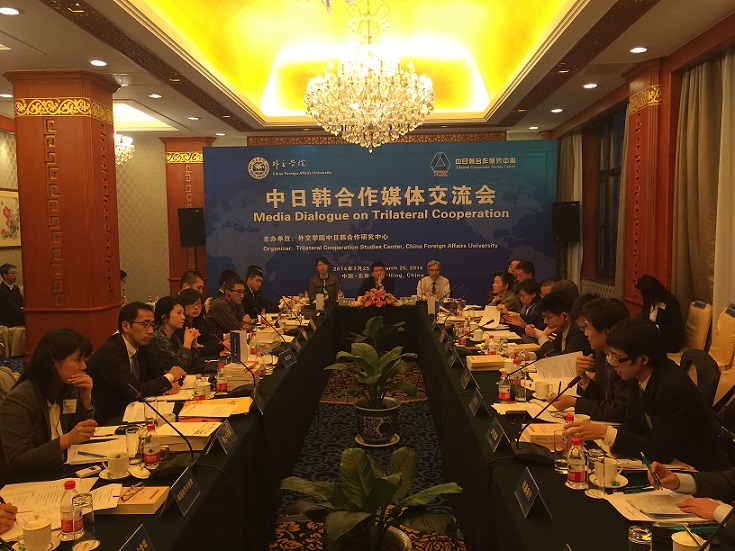 Dialogue with Chinese scholars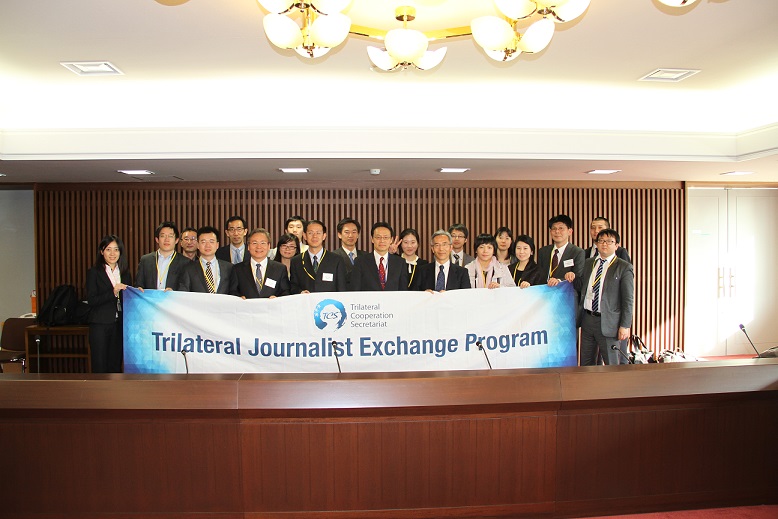 Visit to Japanese Ministry of Foreign Affairs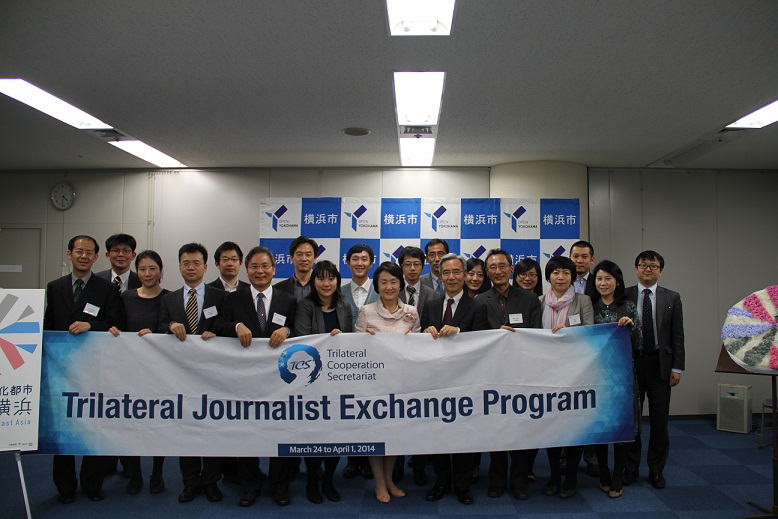 Interview with Mayor of Yokohama City (2014 East Asian Cultural City)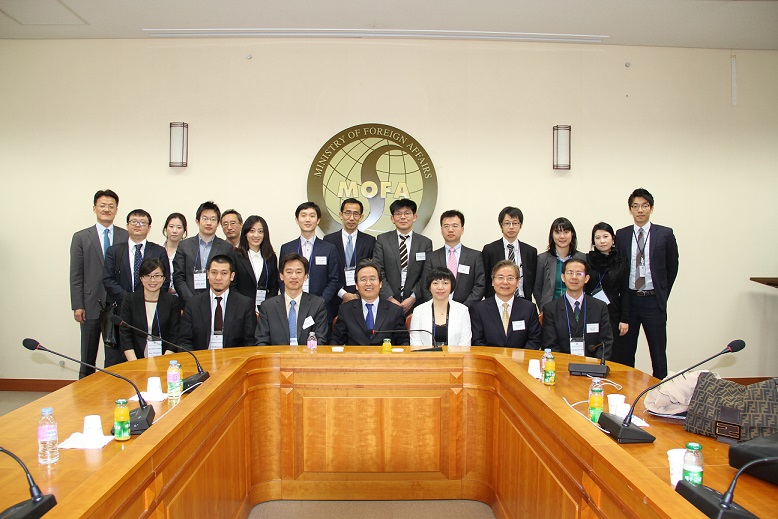 Visit to Korean Ministry of Foreign Affairs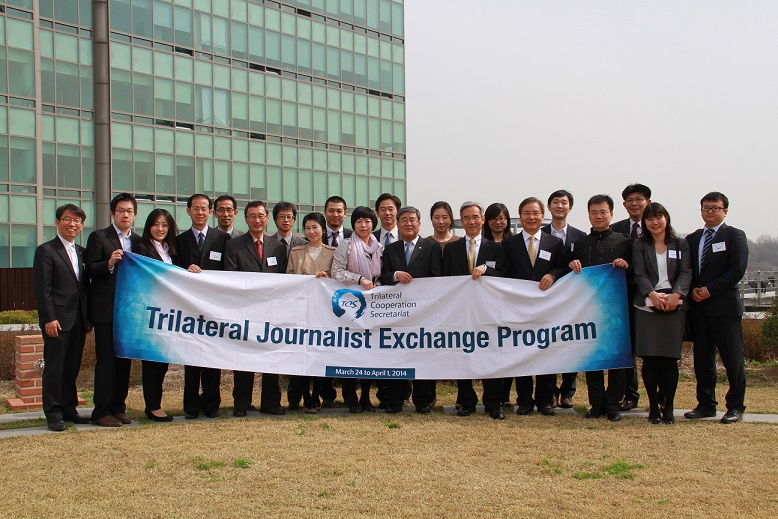 Visit to Korean Meteorological Administration