Seminar & Forum
SG SHIN Bong-kil delivered a keynote speech at the Trilateral Symposium
2012.05.07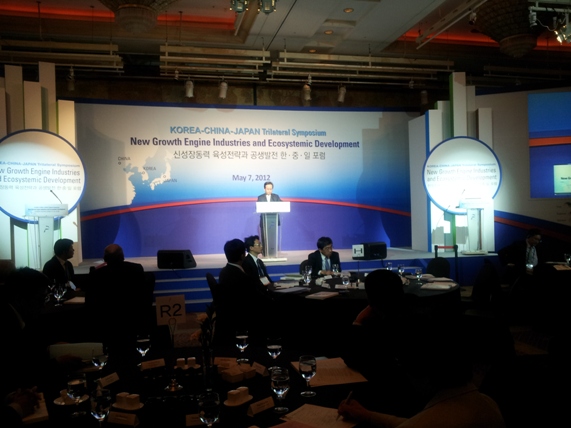 On May 7, 2012, the Trilateral Symposium on New Growth Engine Industries and Ecosystematic Development, hosted by the National Research Council for Economics, Humanities, and Social Sciences (NRCS) and organized by the Korea Institute for Industrial Economics & Trade (KIET), was held at the Plaza Hotel, Seoul. The Symposium, designed to provide a venue for sharing experiences and ideas on trilateral cooperation on new growth engine industries, was attended by about 200 representatives from government, academia, and industry as well as the diplomatic corps.
Following the opening remarks by the Chairperson of the NRCS, Mr. Chin Keun Park, and the congratulatory remarks by the ROK Prime Minister, Mr. Kim Hwang Sik, the Secretary-General of the TCS, Amb. Shin Bong-kil delivered a keynote speech, in which he provided his assessment on the current status and future direction of the new growth engine industries in the three countries and emphasized the importance of strengthening trilateral cooperation in this sector.
The TCS participated in the Symposium as one of the key sponsors alongside the Prime Minister's Office, the Ministry of Strategy and Finance, the Ministry of Knowledge Economy, and Maeil Business Newspaper.