Others
TCS Secretary-General Amb. OU Boqian attended the Appointment Ceremony on Busan International Organizations Advisory Committee & 2022 World Peace Forum
2022.11.01
On 1 November 2022, TCS Secretary-General Amb. OU Boqian attended the Appointment Ceremony on Busan International Organizations Advisory Committee hosted by Busan Metropolitan City and Busan Foundation for International Cooperation (BFIC). The heads and representatives of major international/regional organizations located in Korea including TCS, UNICEF, WFP, FAO, ASEAN-Korea Centre and others were invited as committee members to provide strategic advice for the development of international exchanges among local governments.
At the 1st Regular Meeting and Appointment Ceremony, TCS Secretary- General Amb. OU Boqian briefly introduced the development of trilateral cooperation among China, Japan and Korea, as well as the continuous efforts of TCS in promoting lasting peace, common prosperity and shared culture in Northeast Asia. SG OU welcomed the audience especially the young students to pay more attention to and participate in the ongoing and upcoming projects of TCS including the Trilateral Youth Exchange Network (TYEN), Trilateral Statistics Hub and so on. SG OU wished Busan a successful bid to host the 2030 World Expo, which will be another grand event in the region after the three countries have successively hosted the Olympic Games.
The 2022 World Peace Forum themed "Transforming the World, Our Role for a Better Future" was also held on the day. SG OU attended as an observer. Distinguished speakers including Mr. PARK Heong-joon, Mayor of Busan and Mr. BAN Ki-moon, Former UN Secretary-General attended the forum and delivered remarks.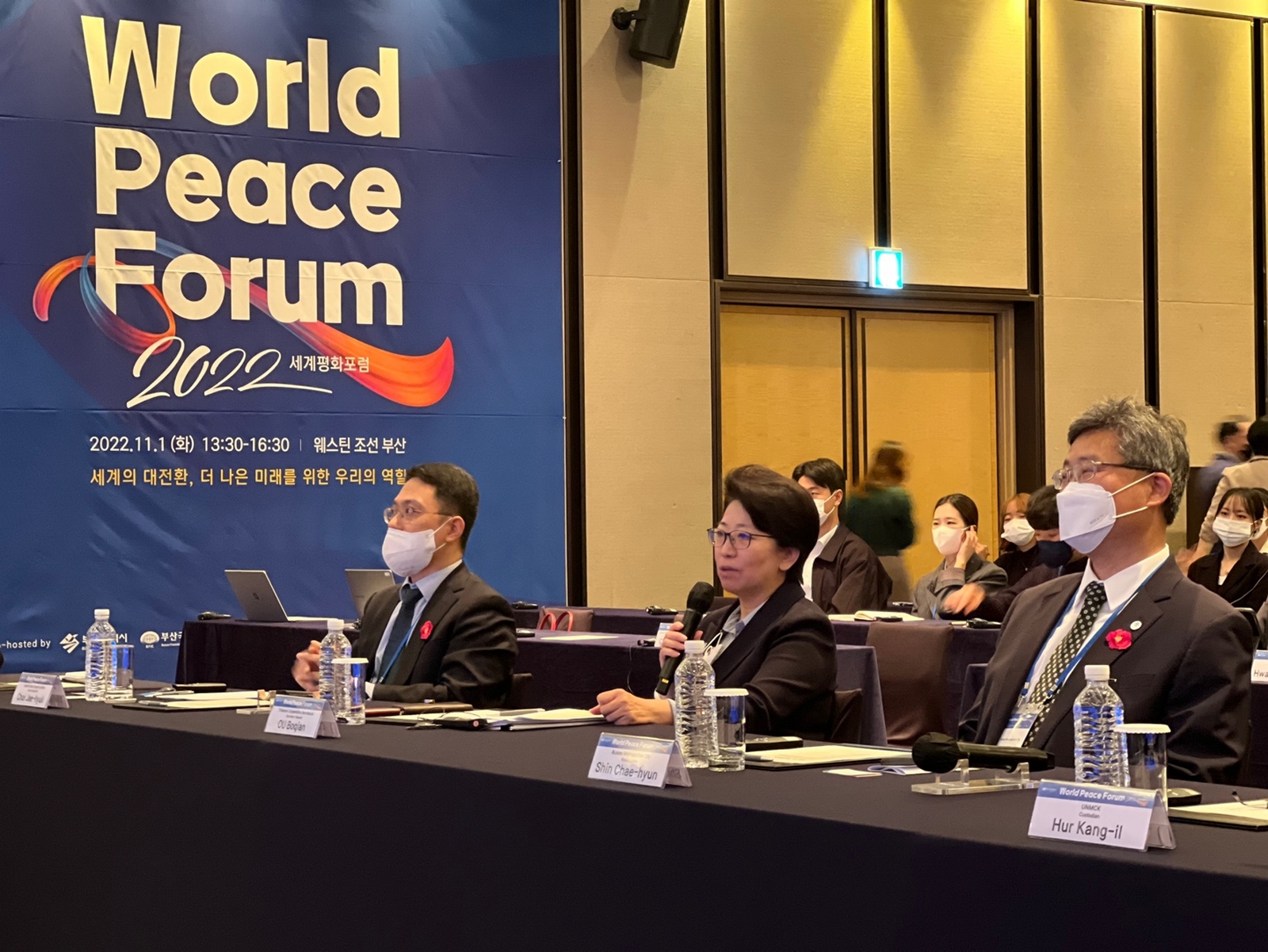 ▲ TCS Secretary-General Amb. OU Boqian delivering remarks