Others
Secretary-General Amb. OU Boqian Received a Joint Interview by People's Daily Online and China News Service
2023.01.31
On the occasion of CJK (China-Japan-Korea) Youth Month which commences on February 1, TCS Secretary-General Amb. OU Boqian took a joint interview with People's Daily Online and China News Service. SG OU introduced Trilateral Youth Exchange Network (TYEN) and shared her insight on youth exchanges among three countries.
Highlighting that the number of young people under the age of 35 from the three countries is nearly 700 million, SG OU pointed out that, 'Where there is a strong youth, there is a strong Asia'. She stressed the significant role of the youth in shaping the landscape of trilateral cooperation and contributing to the lasting peace, common prosperity, and shared culture of the region.
SG OU elaborated on TYEN, a cross-generation and cross-career community network newly established by TCS after half a year preparation in absorbing various suggestions from different communities of the three countries. Under the network, 9 major youth-related programs have been integrated to encourage the youth to connect, immerse, discover, and realize, including Young Ambassador Program, Trilateral Youth Summit, Trilateral Youth Speech Contest, Young Scholars Forum, Young Rural Leaders Exchange, Children's Story Exchange, CAMPUS Asia Alumni Network, TCS Internship Program and TCS SNS Supporters Program. She encouraged the young people from the three countries to join this TYEN to exchange their perspectives, engage in TCS projects in their capacity, and take their own initiatives for a shared future.
On the descending mutual perception among the three countries and the rise of online misinformation, SG OU raised an example of a post under TCS's #CJKSpeakout campaign across SNS platforms saying, "a Chinese dish of stir- fried vegetables, a Korean dish of soup, and a Japanese dish of rice ball complete a good meal", which demonstrates the essence of Trilateral Cooperation— harmony in diversity. She believed that regardless of geographical borders or diverse backgrounds, as long as they can communicate and exchange with good intentions, mutual understanding will be enhanced.
On the revitalizing offline exchanges among the three countries in the post-pandemic era, SG OU stressed that people-to-people exchanges often carry the most enduring, most profound and most tangible influence on nation-to-nation relationships. She hoped that through face-to-face events and programs, young people can deepen mutual understanding and friendship, improve mutual recognition, and enhance public opinion for mutual trust and cooperation among the three countries.
TCS will be holding CJK Youth Day in Tokyo, Japan, on Friday, February 10, 2023, commemorating the launch of the Trilateral Youth Exchange Network (TYEN). Alongside the TYEN Launch, the second Trilateral Youth Speech Contest and CJK Future Fair will be held at the event venue.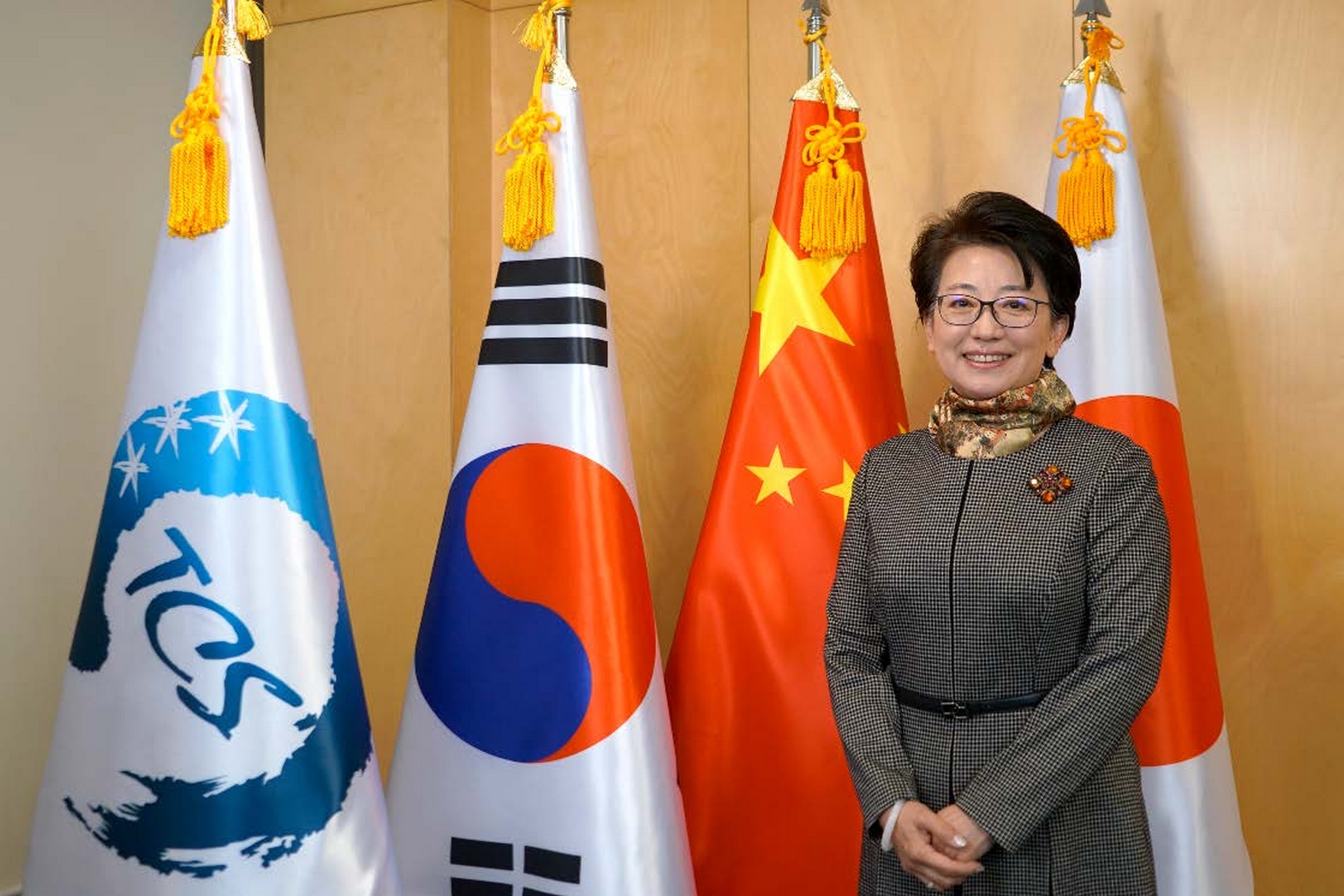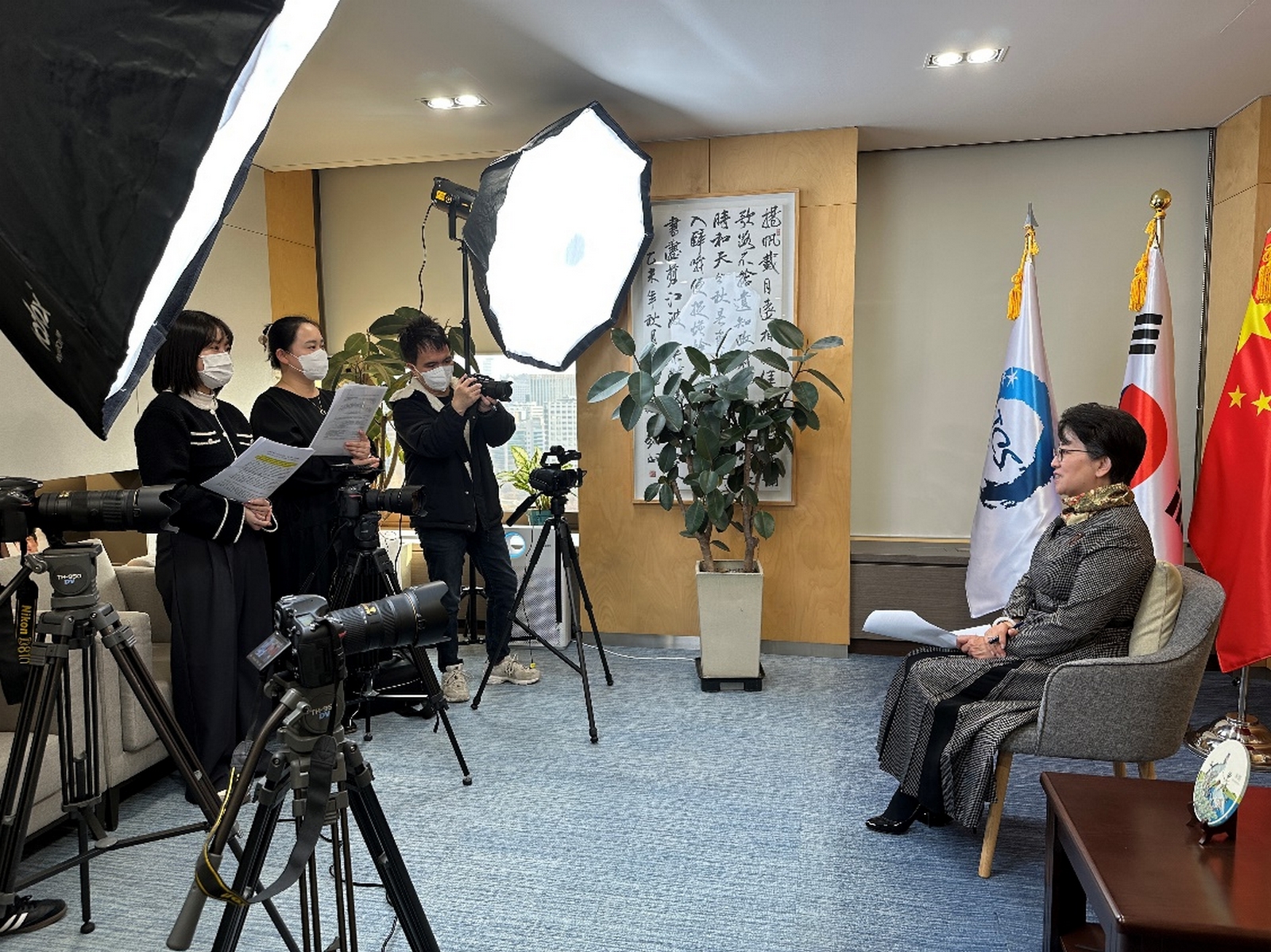 ▲TCS Secretary-General Amb. OU Boqian Received a Joint Interview by Chinese Media