Others
Courtesy Visit by H.E. FRANCKE Marthias, Ambassador of Chile to TCS
2023.02.16
On February 16, H.E. FRANCKE Mathias, Ambassador of Chile to the Republic of Korea, paid a courtesy visit to Secretary-General OU Boqian. Mr. PAVEZ Lucas, consul of Chile to the Republic of Korea, also attended the meeting. SG OU expressed her appreciation to Mr. FRANCKE for his visit and recalled the previous experience of exchange before she took office in TCS.
SG OU introduced the history of TCS along with the ongoing projects led by TCS for trilateral cooperation among China, Japan and Korea. SG OU explained TCS' projects in detail; she especially emphasized importance of cultural and youth exchange in shaping trilateral cooperation, introducing Trilateral Youth Exchange Network (TYEN), which includes Young Ambassador Program, Trilateral Youth Speech Contest, Young Scholars Forum, Young Rural Leaders Exchange, CAMPUS Asia Alumni Network, TCS Internship Program and TCS SNS Supporters Program.
H.E. FRANCKE spoke highly of the achievements made by TCS in the past years, even during hardships faced due to bilateral issues and the pandemic. He also noted that as bilateral relationship faces hardships from time to time due to political, economic, social issues, it is important to maintain a multilateral window where countries can communicate with one another.
Along with the recently launched TYEN, TCS is currently holding Young Ambassador Program (YAP) until February 20, a short-term student exchange program inviting students from China, Japan, and the ROK to enhance understanding of trilateral cooperation and foster a sense of community and friendship among the young generation of the three countries.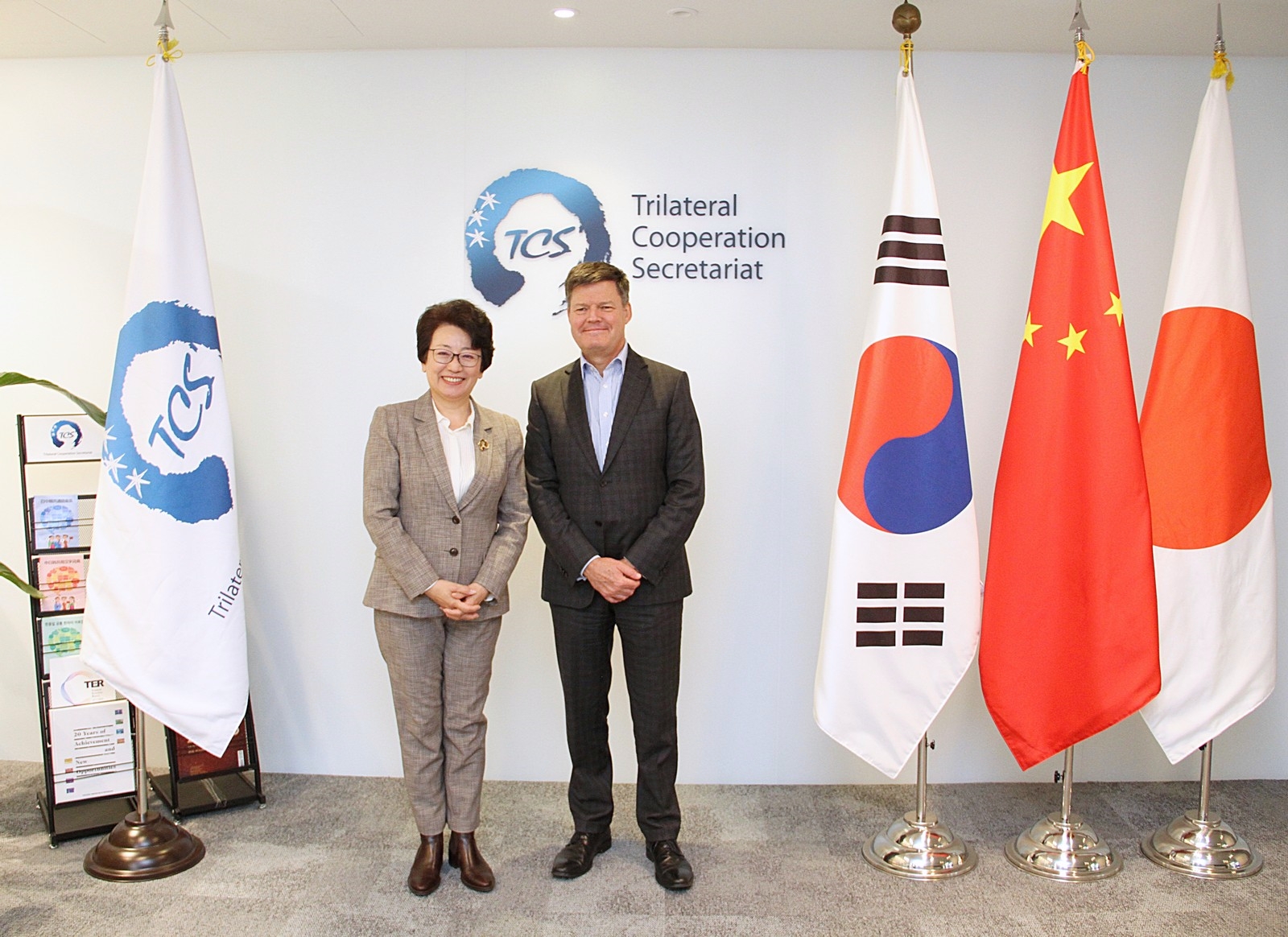 ▲ SG OU Boqian and Ambassador FRANCKE Mathias