TC Activities
Secretary-General OU Boqian Paid a Courtesy Visit to the Mayor of Nara City
2023.02.14
On February 14, 2023, TCS Secretary-General Amb. OU Boqian paid a courtesy visit to Mr. NAKAGAWA Gen, the Mayor of Nara City. Held in the Xi'an Room of the Nara City Government building, the meeting was held in the presence of various objects highlighting the close ties between Nara City and its friendship cities. The two sides exchanged views on the TCS' proposal on the 'Cultural Cites of East Asia (CCEA)' Media & Celebrities Tour (the CCEA Tour), and discussed future cooperation.
SG OU explained that the three countries have faced descending mutual perceptions owing to the increase of online communication since the outbreak of the pandemic, and introduced TCS' plans to expand people-to-people exchanges which aim to improve mutual awareness and understanding. In this context, she introduced the newly launched Trilateral Youth Exchange Network (TYEN) and the CCEA Tour, stressing that the TCS will spare no efforts on enhancing local cities exchange and the understanding of shared culture among the three countries. Regarding the CCEA Tour, SG OU explained that the project is expected to showcase historical, contemporary and modern aspects of the local cities and their cultures through the lens of media and internet celebrities, which will conclude with East Asia Culture Symposium and CCEA Mayor's Dialogue. For the successful hosting of the project, SG OU asked for Nara city government's kind support and cooperation.
Mayor NAKAGAWA introduced Nara City's exchange with cities in China and Korea, including Yangzhou, Xi'an, Ningbo, Jeju, and Gyeongju. He noted that Nara was hoping to resume international exchange after a pause due to the COVID-19 pandemic, and welcomed the TCS' auspicious proposal to hold the CCEA Tour, Symposium, and the Mayor's Dialogue. He mentioned that dialogue among regional cities with a focus on culture will allow for better communication compared to the politics-centered discussions among the capitals. He also expressed his concern with the negative views towards trilateral cooperation that is held by some people, and emphasized the importance of direct exchange with an attitude of humility, mutual respect, and strong curiosity. Related to this point, Mayor NAKAGAWA reiterated the importance of fun and inspiration as key elements of succesful exchange. SG OU agreed with Mayor NAKAGAWA and noted that the CCEA Tour plans to promote precisely such exchange with a focus on the three countries' shared culture. Mayor NAKAGAWA concluded by expressing his intent to participate in the Mayors' Dialogue, as well as to provide support for the CCEA Tour.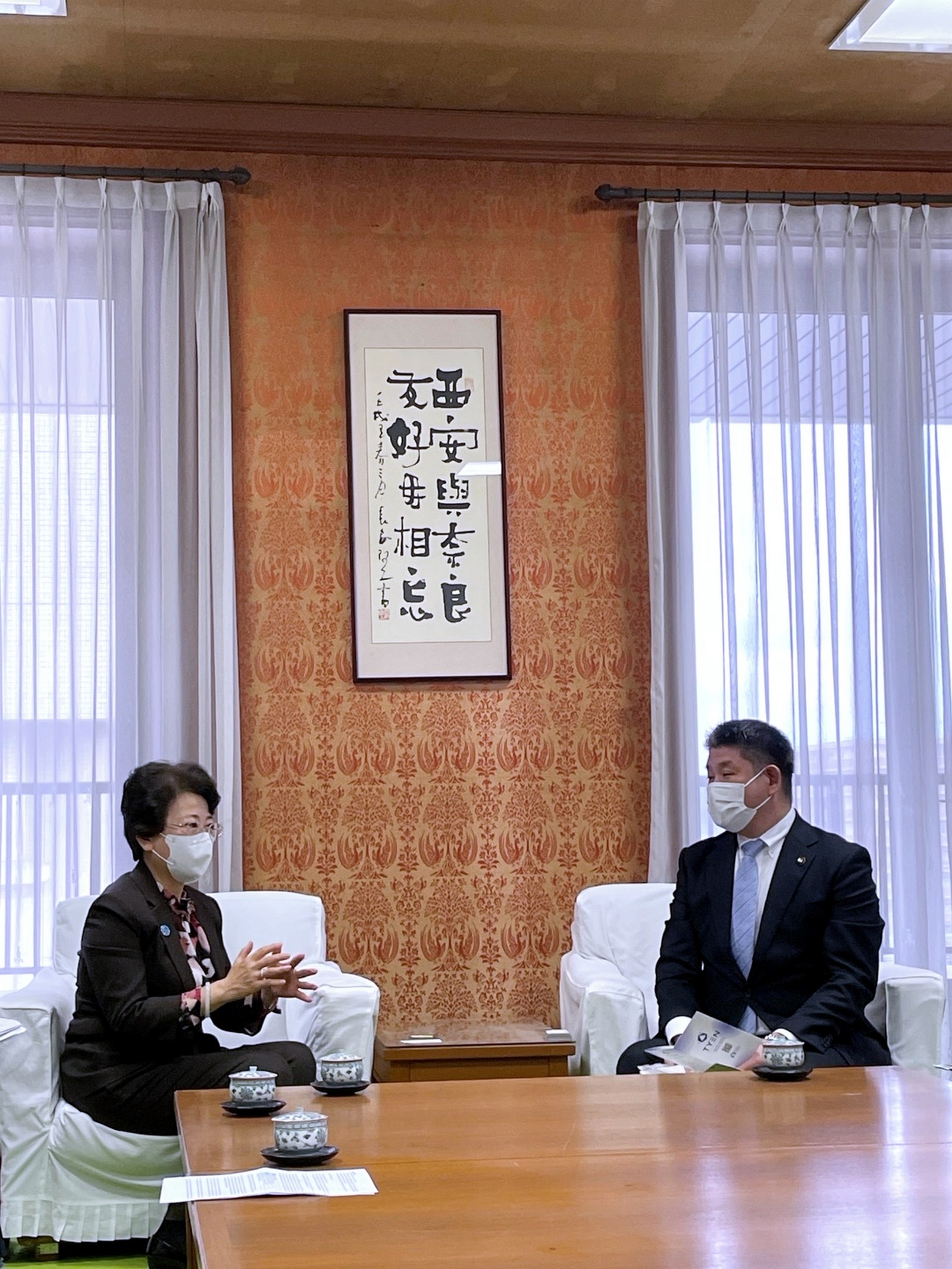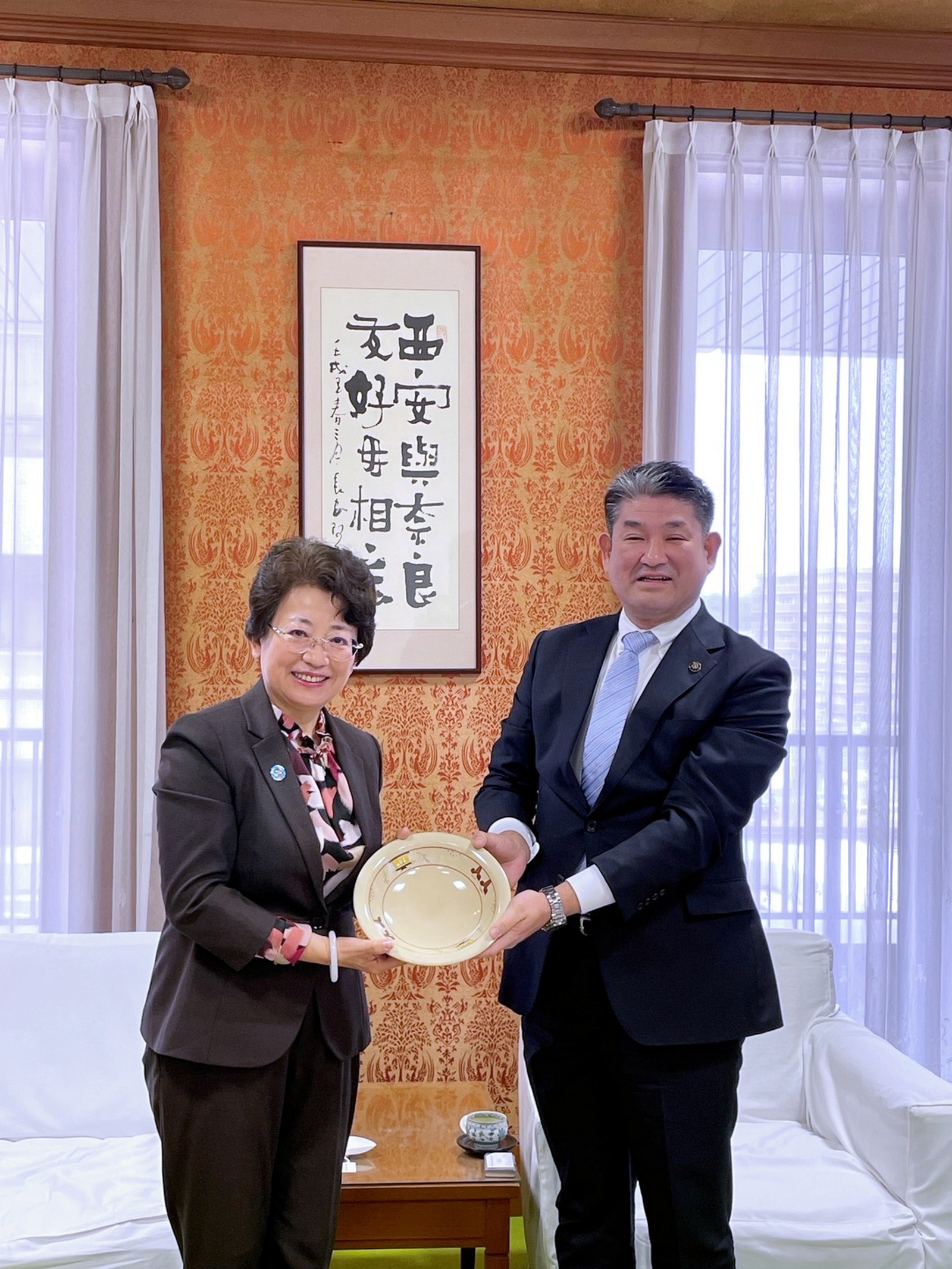 ▲ TCS SG OU Boqian and Mayor NAKAGAWA exchange gifts