Others
Courtesy Visit to the Ministry of Education of China
2023.04.06
On April 6, TCS Secretary-General Amb. OU Boqian and Deputy Secretaries-General BEK Bum-hym and SAKATA Natsuko (collectively the "Consultative Board") paid a courtesy visit to the Ministry of Education of China and met with H.E. CHEN Jie, Vice Minister of Education of China.
Vice Minister CHEN welcomed TCS Consultive Board to China for its courtesy visit. He spoke highly of the progress of trilateral cooperation in the field of education with TCS's endeavor and looking forward to more offline exchanges held by TCS after the pandemic. He also conveyed the message that under the programs of TCS, the dialogue between universities in China, Japan, and the ROK can also be developed more closely to achieve exchange and cooperation.
Secretary-General Amb. OU extended her gratitude to the Ministry of Education of China for its great support to the promotion of trilateral cooperation and TCS. She underlined that youth communication and exchanges is the key area for TCS since it has a great impact on the trilateral cooperation facing the future. SG OU briefly introduced Trilateral Youth Exchange Network (TYEN) which integrated the 9 major youth projects held by TCS. As for the CAMPUS Asia program, the CAMPUS Asia Alumni Network (CAAN) has contributed to connecting nearly 10,000 CAMPUS Asia graduates to communicate with each other so as to generate a continuous promotion for both trilateral cooperation and the CAMPUS Asia regardless of the participated consortia. She believes that with the help of the Ministry, the CAAN will provide more alumni with the convenience of communication. Furthermore, SG OU suggested the ideas provided by Trilateral Vision Group (TVG), that introducing home stay system and CJK online course system into the CAMPUS Asia program, can help the students to gain a deeper and more comprehensive understanding of the local culture and deepen the people-to-people exchange.
H.E. Chen echoed the idea, stressing that education cooperation is an important keystone of trilateral cooperation, and the future of TYEN can include knowledge sharing, technology exchange, employment information sharing, etc. The Ministry of Education is willing to support relevant cooperation. The Ministry supports the construction of CAMPUS Asia and hopes to promote the participation of more universities. For the homestay, it is possible to promote pilot implementation in the institutions with conditions. The online class is in line with the trend of digitalization, and he also invited Japan and ROK to jointly participate in the initiative of establishing the World Digital Education Alliance. Coinciding with the 10th anniversary of the CAMPUS Asia program, the stakeholders should continue to make it stronger to expand exchanges. He suggested to initiate the China-Japan-ROK University Presidents' Forum in conjunction with the Education Ministers' Meeting.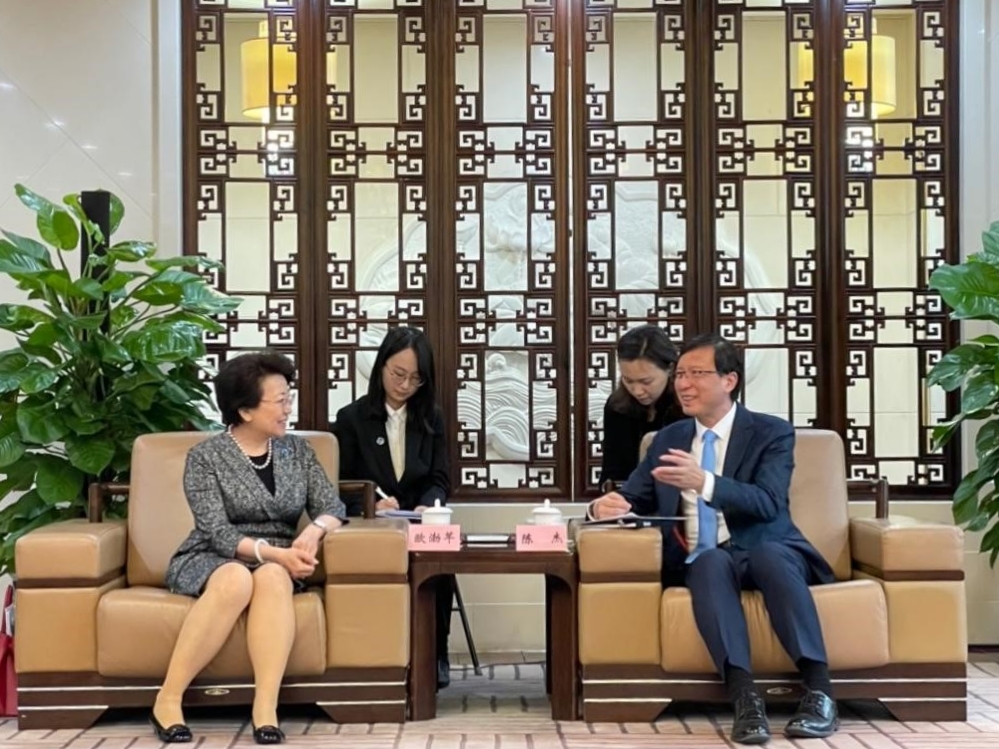 ▲SG OU and H.E. CHEN