Seminar & Forum
TCS Secretary-General Amb. OU Boqian attended the Ambassadors' Forum
2023.04.10
On April 10, 2023, Trilateral Cooperation Secretariat (TCS) Secretary-General Amb. OU Boqian was invited to address the Ambassadors' Forum at Shandong University Weihai campus, China, and delivered a lecture titled "Trilateral Cooperation Under New Circumstance". About 400 students and faculty members attended the lecture.
SG OU introduced the history and development of Trilateral Cooperation, highlighting its role in promoting long last peace and common prosperity in the region. She shared the stories of the "Blind Men and Elephants" and the "Tale of Two Worlds" to explain the reasons behind the declining mutual perception.
SG OU also introduced the establishment of TCS and its activities in youth exchange such as the Young Ambassador Program(YAP), Campus Asia Alumni Network(CAAN), and the Trilateral Youth Exchange Network(TYEN). She called for students to actively join TCS's youth program. In particular, she introduced TCS's mascot Crested Ibis, which received a warm welcome from the students.
Students actively engaged in the Q&A session and asked questions regarding Trilateral Cooperation, social media and cultural exchange.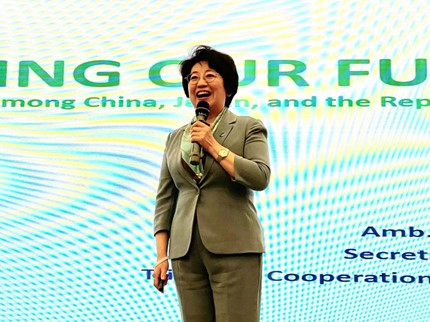 ▲SG OU delivers a lecture at the Ambassadors' Forum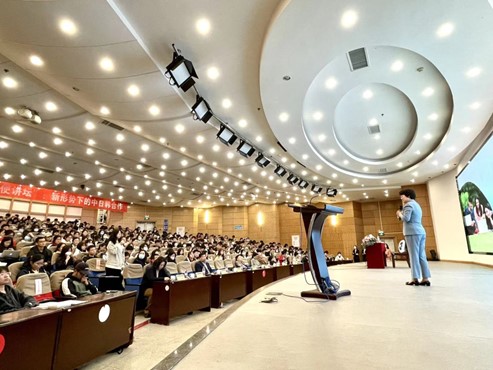 ▲SG OU delivers a lecture at the Ambassadors' Forum