EVENT
[Announcement] TCS 10th Anniversary Symposium Series Vol.2 Urban Regeneration in China, Japan and the ROK: Trends and Cases (Closed)
2021.03.23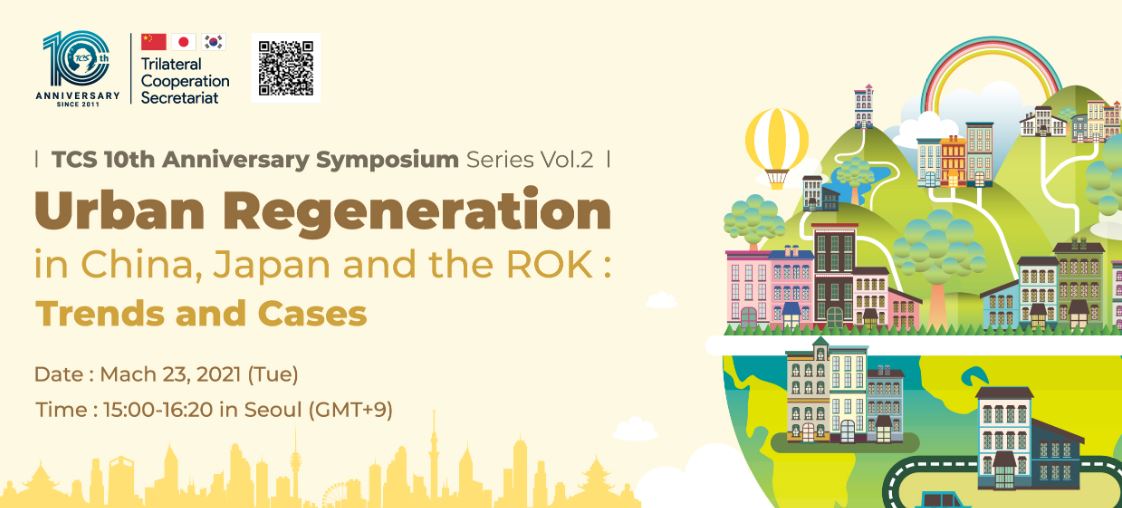 [Announcement] TCS 10th Anniversary Symposium Series Vol.2
Urban Regeneration in China, Japan and the ROK: Trends and Cases
The Trilateral Cooperation Secretariat (TCS) will host an Open Symposium "Urban Regeneration in China, Japan and the ROK: Trends and Cases" as part of the TCS 10th Anniversary Symposium Series.
Even under the common theme of "urban regeneration," the problems and approaches vary from country to country and from city to city, which may give cities a chance to be given new perspectives. The webinar will look at urban regeneration trends in each country and introduce specific cases including Chongyong Avenue, Dongcheng District of Beiing in China; Marugame-machi, Takamatsu City of Kagawa Prefecture in Japan; and Yongdo, Busan in the ROK.
Date/time: Mach 23, 2021 (Tue) 15:00-16:20 in Seoul (GMT+9)
Language: Simultaneous interpretation available in Chinese, Japanese and Korean
Participation Fee: Free
• A confirmation email including participation details will be sent after registration.
• (Optional) Questions submitted via registration will be prioritized in the Q&A session.